After the release of the "Girls of the Big 12" issue of Playboy, Baylor's Vice President of Student Life Eileen Hume said by associating themselves with a magazine clearly antithetical to Baylor's mission, the students violated the code of conduct outlined in the Student Handbook, the Baylor Lariat reported Thursday. Watson sentenced to 7 years April 16, By Lacy Elwood, staff writer A former Baylor professor who pleaded guilty to one third-degree felony count of possession of child pornography in January was sentenced to seven years in prison Friday. Ty Sheehan, a San Antonio senior and president of the fraternity, said that, in addition to the fraternity's suspension, individual sanctions for the fraternity members present were handed out in May. The decision to suspend the group was not announced until recently. A statement from Baylor University, as published in the Baylor Lariat, stated the initial interpretation of the incident was wrong. The Baylor Department of Public Safety received a search warrant for the Watson's home, where they found framed photographs of nude children, photos of nude children that had been downloaded from the Internet, videotapes containing sexually explicit material and a stack of foreign books and magazines depicting nude children. Jessica Watson was placed under two years of deferred misdemeanor probation after pleading guilty to a charge of Class A misdemeanor obscenity in January.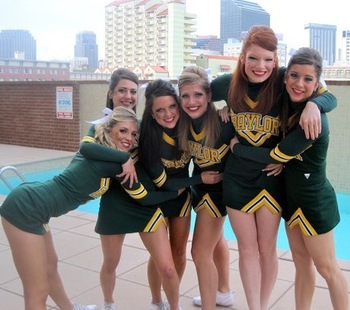 According to the release, the Playboy staff is looking for "informed and consenting female Baylor students.
'Playboy' participants face possible sanctions
During testimonies, Watson, 45, admitted he has had fantasies about preteen girls since he was 18 years old. Controversy and possible sanctions don't seem to concern the magazine's Waco buyers. Rachel Barnier, one of the two who apparently used her real name, was unavailable for comment, but now lives in California a friend said. The picture was one of two Baylor pictures used in the October Playboy, which hit newsstands August Dub Oliver, interim vice president for student life, voiced Baylor's opposition to student participation in the casting call, in a university-wide e-mail last week, saying, "Associating with a magazine that is clearly antithetical to Baylor's mission would be considered a violation of the code of conduct as outlined in the Student Policies and Procedures. Suspension is 'termination of student status at the university for a specified period of time,' while expulsion can be permanent or for an indefinite period of time, according to the student handbook.